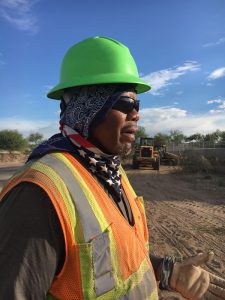 Lawrence Paxton is a man you would want to know.  He went to prison at the age of 21 with a life sentence. He was released in 2017.  Six months later, he graduated from the OPCS reentry program, has a full-time job, a nice apartment, and a successful relationship with his girlfriend.
While in prison, Lawrence earned his GED, an Associate's Degree, obtained his Small Business Entrepreneurship and a Paralegal certification.   He is a published writer through the Arizona Prison Writing Project started by Richard Shelton, from the University of Arizona. Lawrence taught Adult Education to his fellow prisoners and assisted over 500 men obtain their GED.
Lawrence claims his success while out of prison to OPCS.  "Old Pueblo Community Services was my first transition to freedom.  Life is about choices and I keep my choices simple – all I wanted to do was work. Work is a privilege."
The first thing Lawrence did when he arrived at OPCS was to sit and reflect on how lucky he was.  "I had a home, not a dorm – OPCS puts you in an apartment and they give you a key. The first night, I got the best sleep I had had in 26 years. OPCS gives you a place to launch from, a home base."
"Change begins when you accept the wrongs you've done.  You're looking at a man who cannot afford to fail. I work hard every day like every other citizen."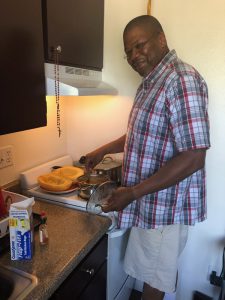 The day we talked, though he was still on parole, Lawrence was getting his ankle bracelet off when the court deemed that he was excelling and no longer needed intensive supervision. The first place he wanted to go was Carl's Jr. He was craving a double cheeseburger, two orders of seasoned fries and a chocolate milk shake. "I live my life simple and basic – I love that I don't have many choices."
Today, Lawrence lives a peaceful, hopeful life.  Engaged to be married in December 2018, he has a lot to look forward to.  His employer is grateful to have such a hard-working new member of his team and is training Lawrence to drive heavy equipment and other skills necessary for advancement in his position.  In his off time, Lawrence loves to spend time shopping at Walmart and cooking for his fiance. Life is Good.