Center for Housing First Capital Campaign
We will end homelessness in our community
"We are shifting the paradigm from managing chronic homelessness to solving chronic homelessness."
Tom Litwicki, CEO – OPCS
Tucson's homeless crisis is getting worse. An increase in unsheltered households and the dwindling inventory of affordable housing makes our work more urgent every day. Fortunately, there are proven solutions to the problem of homelessness—most notably, the evidence-based practice of Housing First. This approach centers on centers on quickly moving people from homelessness to permanent housing with no preconditions, and providing them support services as needed. For the last five years, we've used this model to help more than 3,500 households move out of homelessness and into a home of their own, and over 80% have remained housed, breaking the cycle of chronic homelessness.
We're taking this work to the next level, and in 2023 we'll open the Center for Housing First. This will be our new home, the epicenter for the spread of the Housing First model throughout Pima County, and will allow us to serve 40% more homeless households. Learn more here!
Homelessness in Pima County
Since 2019, the homeless population in Tucson has steadily grown, and the demand for social services has increased along with it. The Covid-19 pandemic combined with a severe shortage of affordable housing further poses a challenge to our community and has caused an alarming increase in homelessness. The 2022 Point in Time Count identified a total of 2,227 persons experiencing homelessness on the night of February 22, 2022. This included 1,649 people experiencing unsheltered homelessness and 578 people experiencing sheltered homelessness. In particular, unsheltered homelessness has increased by 357% since 2019.
Homelessness is on the rise!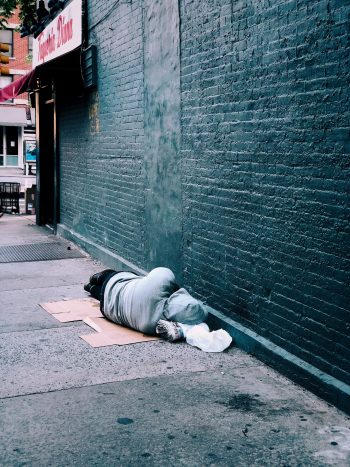 156 persons died on the streets of Pima County in 2021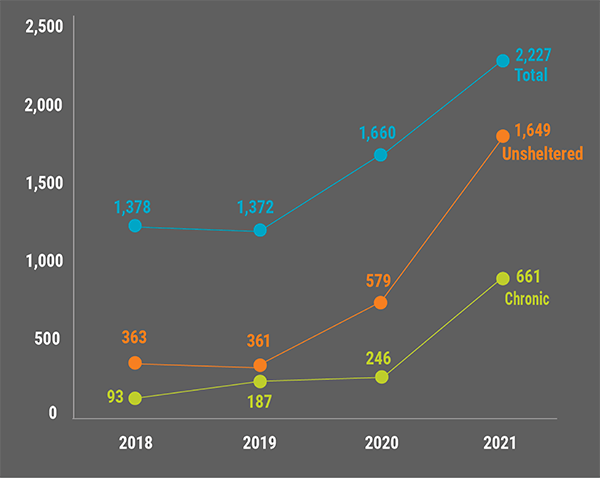 Coming in 2023 – Center for Housing First
"This center will serve as an anchor for growing the Housing First movement in our community: a movement with a solid, evidence-based plan to end homelessness.
Tom Litwicki, CEO – OPCS
OPCS has more than doubled in size over the last six years, but space for working with clients and running the agency has not increased. The current space is inadequate to the needs of a growing organization that supports the health and well-being of over 2,000 people each year, not to mention to meet the current demand for housing services. More-over, the current facility is not accessible for people with disabilities.
To address this situation, OPCS purchased a 20,000 sq. ft. facility that will become the Center for Housing First, a headquarters for ending homelessness in our community. This facility consists of two buildings and will be renovated to add more space for pro-grams, wrap-around services, and community collaborations. In particular, wrap-around services are critical to the successful exit of individuals to permanent housing but also to prevent them from returning to homelessness. The center will also be a hub for community organizations to learn about the housing first approach and coordinate efforts to end homelessness in Tucson.
With your support, renovation is expected to begin in the fall 2022.
The Connie Hillman
Family Foundation
will match every gift to
this campaign for up to

$350,000!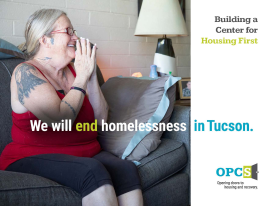 The Connie Hillman Family Foundation and Herrick Foundation have stepped up to kick off our capital campaign with a generous donation of $350,000 each. We invite you to join us in making a gift to help us reach our $3 Million goal to begin the renovation of OPCS's Center for Housing First.
At OPCS, we envision a future in which all can reside in safe affordable housing and live meaningful, self-defined, dignified lives, as part of a healthy, inclusive community. This project brings us one step closer to realizing this vision for Tucson.