Theresa was alone, age 60 and had spent most of the past 17 years incarcerated when she was finally released from prison.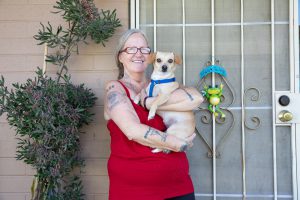 She had multiple barriers to living successfully in the community and was, therefore, considered a high-risk for recidivism. She was sick with an undiagnosed illness, had no family support, a GED she had earned in prison, and few job skills.  She had no money and no place to go.
When Theresa arrived at OPCS, she was welcomed with open arms.  Within the first two weeks, she had a general medical exam on the El Rio Mobile Clinic.  The nurse discovered a lump and sent her to a specialist. Theresa had breast cancer.
Afraid that she would lose her housing because she was unable to work and pay her housing fees, Theresa turned to the OPCS Home Fund for financial assistance.  In OPCS' early days, the cost of housing would have been covered by federal grants and contracts. That is no longer the case.
But, OPCS has never turned anyone away simply for lack of ability to pay housing fees.  It is the policy of OPCS to provide financial aid to residents to cover their housing cost until they gain income through employment, Social Security, or other sources. We turn to our community to help us in this effort.
Contributions to The OPCS Community Home Fund is one way that OPCS employees and members of the wider community can donate to the agency to cover these first few weeks of housing.  The OPCS Home fund may also be used to provide for specific, emergent needs to remove barriers to housing and employment.
Home Fund contributions can help people in the following ways:
State Identification    $12
Economy Bus Pass/month    $15
Arizona Drivers License   $25
Work boots   $25
Black work pants    $25
Toiletries/socks/underwear   $25
First night of housing    $30
Jackets with hood    $30
Towels and bedding    $40
Bicycle   $90
One week of housing   $100
GED Test (class free at PCC)   $140
One month of housing   $400
Two months of housing   $800
One Move-In Kit   $1,000
90-days of housing   $1,200
Today, Theresa is cancer free, has qualified for social security income, and is living in permanent housing.  If you ask her, Theresa will tell you that the Home Fund saved her life.
Contributions to the Home Fund also qualify for the Arizona Tax Credit as donations made to a qualified charitable agency.  
Don't miss this opportunity to make a huge impact on the life of another.  Donate to the OPCS Community Home Fund today!