The OPCS Supportive Housing program is designed to provide permanent housing, with the option to engage in various supportive services.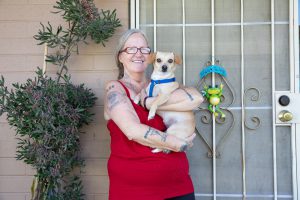 Taking advantage of supportive services helps the client maintain their housing stability. OPCS operates several Supportive Housing Programs, each designed to meet the specific needs of:
individuals and/or families who are chronically homeless;
veterans who are both homeless and disabled and/or 62 years of age or older;
individuals who are homeless with a disabling condition; or
individuals who are homeless with a primary diagnosis of substance use disorders.
To be eligible for supportive housing, a client must first complete the Vulnerability Index – Service Prioritization and Decision Assessment Tool (VI SPDAT). OPCS is a coordinated access point for anyone experiencing homelessness to complete this assessment. Click on this link to see additional locations in Tucson where you may complete the VI SPDAT. 
As housing becomes available, individuals and families are referred to supportive housing in order of highest need. At that time, the client will be referred to OPCS, or other community partners that have housing units open.
Clients assigned to OPCS Supportive Housing work with a Navigator to locate apartments located at locations throughout the Tucson area.  Apartments range from studio, to one or two bedrooms apartments.
Additional services are made available to help residents remain in housing and may include:
case management;
individual and/or group counseling;
connecting with mental health services;
employment services; and/or
assistance with getting disability income.