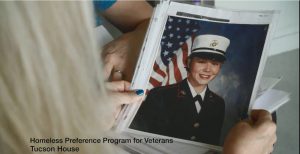 He found her on the steps of the Veterans Administration Homeless Clinic.  She was there to help other veterans experiencing homelessness because it helped her to help others.  And every night she returned to the desert to a camp she had created, surrounded by berms with only one way in and one way out.  Otherwise, she could not sleep.
Her name is Bobbie Jo and she served in the US Marines in the early 1990's.  It was "what you did" when you came from a long line of "army dawgs" – grandfather, father, uncles, brother, and sister.  Early in her first duty station in Okinawa Japan, she was gang raped and within months was honorably discharged for "medical reasons".  Those who believed her thought she should just "get over it". Those who didn't shunned her.
That was the beginning of 24 years of instability and over 7 years of homelessness, which included several attempts at suicide, hospitalizations for serious mental illness, failed marriages and two children.  She wandered around the country looking for a safe place.   In 2012, she came to Tucson because the Southern Arizona VA Health Care System was reputed to be the best. For the first time, she was properly diagnosed and began treatment for Military Sexual Trauma (MST) and Post Traumatic Stress Disorder (PTSD).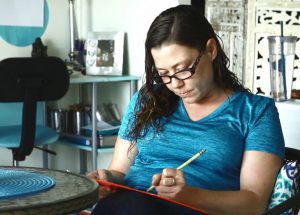 The same day he met her on those steps, the OPCS outreach worker was able to place her in her own apartment, with her own key, in the OPCS Steps for Veterans program.  At first she felt hopeless and helpless because she had to share space with others. But she stuck with it and, with support of the OPCS staff, she completed the program.  She then moved to a new program in 2016, the Homeless Preference Program, and moved to a studio apartment at the Tucson House. In the meantime, with OPCS at her side, she was able to obtain full military disability for the first time since her discharge in the 1990's.  In the summer of 2016, she reconnected with her daughters for the first time in 18 years.
Though she continues to struggle with her MST and PTSD daily, limiting her ability to be in large groups or get caught in an elevator with others she doesn't know, she continues to work hard every day to stay off the street and get the help she deserves.  Unable to drive or take the bus, you will see Bobbie Jo on her bicycle on her way to the VA.