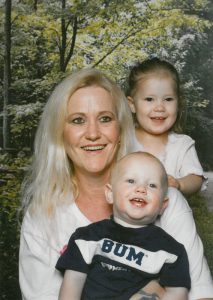 You would never know that Theresa M was a cancer survivor.  You would never suspect that Theresa had been an addict most of her life and incarcerated for a total of 17 years. What you would know, when you meet Theresa, is that she is a positive, motivated, caring person who set her mind on change and has accomplished it.
When Theresa arrived at OPCS in July, she had just been released after 17 years in prison. While incarcerated she quit drugs, stayed clean and helped younger inmates do the same.  She got her GED and took some college courses.
In her final months, she started having health problems, misdiagnosed by the doctors in the infirmary as "an infection". Then Theresa came to OPCS ready to find a job, get on her feet and remain clean.  Upon arrival, Theresa was seen by a nurse on the El Rio Health Center mobile unit that visits our recovery communities regularly. They knew immediately that she needed a mammogram and to see an oncologist.  That was when Theresa's plans changed. Theresa was diagnosed with breast cancer.
Unable to seek work and pay her fees, she was afraid of losing her housing at the OPCS recovery community.  She came to us seeking financial relief and found it in the OPCS Community Home Fund. The Home Fund paid for Theresa's residency in the Reentry Recovery Community and allowed Theresa to seek the medical care she needed without fear of becoming homeless.  It allowed OPCS time to find a supportive housing program that would provide her an apartment while she recovered from surgery. Best of all, it allowed Theresa time to heal in body, mind and spirit.
In December, Theresa had a lumpectomy and a course of radiation and other therapies.  At the same time, she moved in to an apartment through one of the OPCS supportive housing programs, where she continues to live today.  In late 2017, she received an official diagnosis of SMI and has recently been approved for SSDI.
Today, Theresa is adjusting to being more self-sufficient.  With an established income, she is now able to assume some payment toward her rent, use her food stamps with prudence, and has acquired her own phone.  Having relied on the bus, at age 60 and in poor health, she looks forward to the purchase of a used car in the near future. She continues to work with her case manager, work with her psychiatrist at COPE, and attend group therapy sessions at the OPCS Reentry Recovery Community.  Wanting to give back to OPCS, she is often found volunteering to help in the efforts to raise money to support others just like herself.
Why do they call her Mama-T?  Theresa is always ready to help others, no matter how she feels.  She "adopts" many who are in need of support and encouragement. In a note to those who helped her, Theresa says "It is heartwarming to know that there are people who care. Your donation to the Home Fund has been a great relief and has allowed me to stop worrying."